Making of a Grey Panther, The: The Derrick Humphreys Story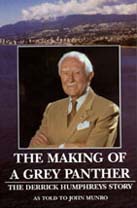 The Making of a Grey Panther
The Derrick Humphreys Story
$17.95
Spring 1997
ISBN 978-0-921870-44-9 (0-921870-44-2)
6″ x 9″ Trade Paperback, 300 pages
Biography, Politics, Government


The Derrick Humphreys Story is a superb biography, a life of adventure that begins in Dickensian England before World War I, then moves to the Western Australian mining frontier of the 1930s and '40s, with excursions into the New Guinea campaign in World War II, the De Beers' South African diamond empire, a foreign aid project in Brazil and the rebuilding of the townsite at Churchill, Manitoba in the mid-1970s.
For many years Derrick Humphreys was the mayor of West Vancouver. His memoir of life in office offers the finest published account to date of the ins and outs, the personalities, and the bare-knuckled fights that have marked the politics of North and West Vancouver for over a decade. Never have Canadians been presented with a more engaging opportunity to examine the working of government on the street where each of us lives.
This book is destined to become a bible for every aspiring municipal politician. Above all, seniors will be inspired by Humphreys' commitment to the values of "grey power." Now in his '80s, Humphreys still plays a part in municipal politics, helping seniors fight for their rights and for the amenities they so clearly require.
"Devastatingly candid…Rousing…Fascinating.. Beautifully written…Poignant…You'll be charmed, enlightened and entertained."
— Trevor Lautens, Vancouver Sun
"In West Vancouver, we call him Dauntless Derrick. It fits his life of action, adventure and service, all of which he has faced and met dauntlessly."
— Denny Boyd