Seventh Circle, The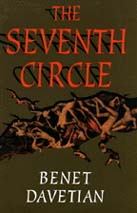 The Seventh Circle
$14.95
Spring 1996
ISBN 978-0-921870-38-8 (0-921870-38-8)
6″ x 9″ Trade Paperback, 180 pages
Short Stories


Benet Davetian's starkly moving stories portray individuals enmeshed in social and political upheavals not of their own choosing: an innocent Somali farmer struggles to survive famine and war; a Serb sniper faces a bizarre opportunity to redeem himself; a Rwandan Hutu is forced to choose between his own life and those of his Tutsi in-laws; and an immigrant is detained in a Paris airport for six years.
Developing incidents from his own experience in some of the world's most troubled countries, Davetian invests his stories with the lived feel of actuality. Yet he also moves beyond mind-numbing reportage to portray individuals in extremis, struggling to give meaning to their lives as they respond to social chaos.
Also included is a story about the 1995 Quebec referendum, in which Devetian portrays Quebec's various communities with their sometimes surprising and paradoxical responses to the question of sovereignty. In Benet Davetian, Canadian fiction has found a new voice that writes of the dilemmas of identity at a level that reaches beyond national boundaries.
"Once in a rare while, you encounter a mesmerizing writer who makes the art of storytelling look effortless."
— Carol M. Davison, Montreal Gazette
"Impressed with the simplicity and lucidity"
— The Atlantic
"A timely and moving book."
— The New Internationalist
__________________________________________________________________________________________________
Awards
Nominated for the Irving Layton prize for new fiction.