Tenth Pupil, The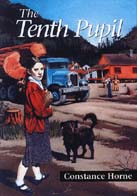 The Tenth Pupil
$8.95
Autumn 2001
ISBN 978-0-921870-86-9 (0-921870-86-8)
5-1/4 x 7-5/8 Trade Paperback, 162 pages
Young Adult Novel, History
A separate Teacher's Guide is available for $5.95.


The Tenth Pupil, for readers eight to fourteen, is set in a small logging camp on Vancouver Island in 1934. Eleven-year-old Trudy Paige enjoys her life in Mellor's Camp. She has a loving family, a shaggy dog, friends, a swimming hole, a fishing stream, books to read, wild animals to lend a touch of danger, and a friend in Vancouver to visit. She especially enjoys school, until the government threatens to close the school because there are only nine children, and ten are legally required if the government is to fund the school.
Unexpectedly, Shigi, a Japanese boy, becomes the tenth pupil. Trudy is delighted, but other people in the camp are not pleased and Trudy discovers a dark side to life. Over the school year, she witnesses several incidents of prejudice against the Japanese, including a frightening riot in Little Tokyo in Vancouver. Trudy is faced with a dilemma: should she succumb to the prejudice in the camp in order to fit in or should she defy them all and continue to be Shigi's friend?
This historical novel for young adults offers a taste of logging camp life just at the time when railway logging was giving way to truck logging, and when children were still used to beat out the sparks from the locomotives. Horne offers an insightful account of racism in the pre-WWII period, but does so while giving both the Japanese-Canadian and Euro-Canadian points of view.
"In this engrossing account of life in a logging camp on Vancouver Island in 1934, as witnessed by an eleven-year-old girl and her Japanese friend, Horne tackles the pervasive issue of racial prejudice with great insight and demonstrates that there are no easy answers. Teachers and librarians will find this novel an invaluable aid for their studies of the history of British Columbia."
— Norma Charles