Vanilla Gorilla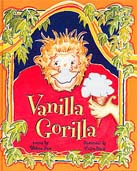 Vanilla Gorilla
$12.95
ISBN 0-921870-57-4 (978-0-921870-57-9)
7-1/4″ x 9″ Hardcover, 32 pages
Picture Book, Poetry – Ages 2 & up

William New has created a wondrously zany collection of rhyming verse, ranging from the playful to the mysterious. Included are percussive nonsense rhymes, puzzle poems, joyful dances with anagrams and gentle haiku. The poems are complemented by Vivian Bevis's full-page, full-colour illustrations, which capture the high-spirited and impetuous qualities of the verse. This sturdy hardcover picture book will delight both the early reader and the many adults who enjoy introducing children to the sound and rhythm of verse.
In Moose Jaw when it's quiet
And the Mountie's on a diet
And the only thing that's moving is the sun
Make a meatball for your mother
Macaroni for your brother
And a muffin for your father, just for fun.
Also by William New & Vivian Bevis: