November 5th: Serge Alternês launches Live Souls at St. Anselm's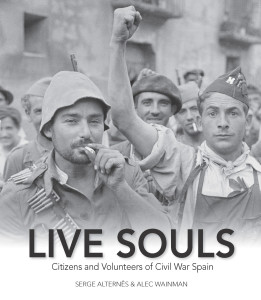 Thursday, Nov. 5, at 7 p.m.
St. Anselm's Church
5210 University Blvd.
Vancouver, B.C.
Join author Serge Alternês as he presents the b&w photographs that Alec Wainman took as a medical volunteer in the Spanish Civil War (1936—1939). The photographs, long thought to be lost, give a stirring account of the opening act of WWII. Alternês will also read from and discuss Alec's account of the bombing of Madrid, the Barcelona uprising, and the heroic work at the Ebro Front cave field hospital as well as with Spanish exiles after the Civil War. Admission is free, refreshments will be served, and ample parking available.
For more information, please contact: 604.738.4688 or ronsdale@shaw.ca
This entry was posted on Thursday, October 8th, 2015 at 1:19 pm and is filed under
Blog
.