Poem of the Week: "Remember" by Joanne Arnott
Remember
Remember that you are
a good woman
grown from a perfect child
remember
all of your hopes and reams
not forsaken
still possible
Remember that you are
completely deserving
all of the love in the world
is the web
that you stand upon
Remember that you are
a smart person, and wise
your feelings are an essential guide
the clear heart of matter
beating out a rhythm
we can all dance to
you are the groundwork
a house, a loom:
all of us are weaving
our lives around you
Remember that you are
a full woman
remember
you are not
all alone in this place
remember
all of your needs
all of your hopes
all of your dreams
are a potent fire
warming the world
lighting your face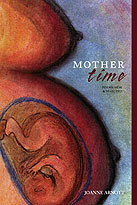 From Mother Time by Joanne Arnott
Posted in honour of International Women's Day, 2011.
To purchase Mother Time using PayPal:
Also available from Amazon.
Joanne Arnott will be reading at Play Chthonics reading series at UBC Green College, Vancouver, on March 16. It's free! For more information, see the Play Chthonics blog.
This entry was posted on Monday, March 7th, 2011 at 4:43 pm and is filed under
Blog
.