Serge Alternês presents Live Souls at VPL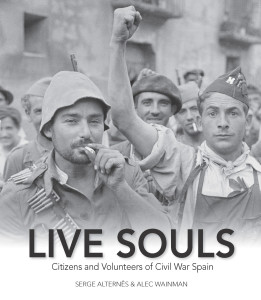 Wednesday, Nov. 18, at 7:30 p.m.

Hastings Branch Library
2674 East Hastings St.
Vancouver, B.C.
Join Serge Alternês at the Hastings branch of the Vancouver Public Library where he will offer a presentation on his book Live Souls: Citizens and Volunteers of Civil War Spain.
Live Souls offers 210 of the photos that Alec Wainman took during the Spanish Civil War, along with his personal story of his time as a volunteer member of the British Medical Unit. Until the present, all but a handful of these highly valued photos were assumed missing, but after much research Serge Alternês discovered the entirety of the collection in excellent condition.
For more information, please contact: 604.738.4688 or ronsdale@shaw.ca
This entry was posted on Thursday, October 1st, 2015 at 1:40 pm and is filed under
Blog
.