Zeller, Ludwig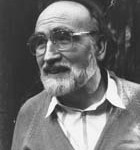 Ludwig Zeller
Ronsdale books illustrated by Ludwig Zeller:


Ludwig Zeller is prominent in both Latin American poetry and international surrealism. His books of poetry include Salvar la poesia quemar las naves (Mexico City, 1988) and Tatuajes del fantasma (Mexico City, 1993). Zeller has exhibited his collages in scores of one-man and group shows throughout North and South America and western Europe. Before coming to Canada in 1971, he was curator of the Chilean Ministry of Education Art Gallery (1952-70).
Zeller has been an exhibitor at the Venice Biennial (1986), a featured poet of the Rotterdam International Poetry Festival (1987), and the featured poet and artist of the Guadalajara International Book Fair (1991).