Gustafson, Paula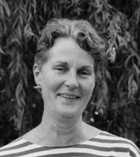 Paula Gustafson
Ronsdale books edited by Paula Gustafson:
Paula Gustafson, who passed away in July 2006, was both a contributor to and the editor of Craft Perception and Practice Volumes I, II and III. She was the well-known editor of Canada's award-winning magazine Artichoke: Writings about the Visual Arts and a regular contributor to other visual art magazines in Canada, Australia, England and Hong Kong.
A life-long craft advocate and activist, she received the first Jean A. Chalmers Fund for the Crafts award for critical writing about contemporary Canadian crafts. She is the author of Salish Weaving, a definitive study of Northwest Coast textiles, published by UBC Press. In 2005, she edited A Brush with Life, an autobiography of Vancouver artist John Koerner.
Gustafson lectured extensively and participated in forums and conferences, sharing her experience in the Canadian publishing industry and extensive knowledge of art and craft. She did much to bring about a new perspective on craft through her writing and publishing.