Long Labour, A: A Dutch Mother's Holocaust Memoir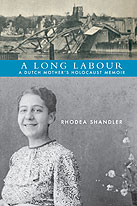 A Long Labour
A Dutch Mother's Holocaust Memoir
$21.95
Spring 2007
ISBN 978-1-55380-045-3 (1-55380-045-1)
6″ x 9″ Trade Paperback, 176 pages
Holocaust Memoir


In this unusual Holocaust memoir, Rhodea Shandler gives a woman's view of life under the Nazis in Holland. She begins by describing her early life in a closely knit Jewish family in northern Holland. There was anti-Semitism, she explains, but it was of a low level, and the Jews with their strong ties to community managed to live relatively normal lives. Then everything began to change with Hitler's rise to power in 1933.
Through it all, she tells of life ongoing and how she became a nursing student in Amsterdam. It was while she was working in an Amsterdam hospital on May 9, 1940, that an explosion was heard, and she looked up to watch German paratroopers landing to take control of the city. Over the next few years she describes how the community attempts to cope even as Jews are being deported before their very eyes.
Finally in early 1943, she and her new husband decide that they must go into hiding in the countryside. With the help of the Underground, they find a "safe" farm, but their situation changes when Shandler discovers that she is pregnant. Some of the most moving parts of the story describe her preparations for the child's birth, even as their "friendly" family turns against them, fearful of the new dangers a baby will bring.
Then on a bitterly cold day in December 1943 the baby is born, and Shandler is left with the difficult task of caring for the child in the midst of continuing Gestapo raids. Shandler's memoir ends with the family's decision after the war to emigrate to Canada, and for Shandler to write of her struggle to give birth to the new.
"To bear and raise children underground with the Holocaust raging around you is an extraordinary testimony to the power of motherly love. I'll never forget this inspirational story."
— Dr. Graham Forst, Co-Founder, VHEC Symposium on the Holocaust
Other Holocaust Memoirs from Ronsdale Press: