Daruma Days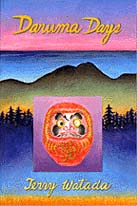 Daruma Days
$14.95
Spring 1997
ISBN 978-0-921870-43-2
ebook ISBN 978-1-55380-392-8
PDF ISBN 978-1-55380-393-5
6″ x 9″ Trade Paperback, 208 pages
Short Stories


Set in the internment camps of the British Columbia interior during World War II, Terry Watada's Daruma Days captures the Japanese Canadian experience of imprisonment. Watada draws on the accounts of people who lived through the camps, often speaking with the voices of the issei and nisei, to portray the camps as haunted by demonic forces, the inhabitants caught between two worlds: the cultures of Japan and Canada.
With his use of Japanese folklore, ghost stories and legends, Watada presents a collection of astonishing experiences: a mirror that reveals a murdered picture bride turned prostitute, fireballs that strike the wicked, the chaos of the uprooting itself, as thousands of people were forcibly moved to the wilderness.
Watada has himself conducted many interviews with camp internees (including his parents), and he now discloses the heretofore unmentioned gangsterism and scandals among the Japanese Canadians themselves — an eye-opener for most readers who have never been permitted this unusual viewpoint. With its controversial materials, Daruma Days alters our understanding of the internment camps forever.
"For Terry, applause and gratitude, because he has held the people in his mind and his heart, and because he gave them back to us."
— Joy Kogawa