Free Will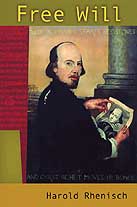 Free Will
$14.95
Spring 2004
ISBN 978-1-55380-013-2 (1-55380-013-3)
6″ x 9″ Trade Paperback, 100 pages
Poetry, Shakespeare


Harold Rhenisch's first artistic love was the theatre. Twenty-eight years after first playing Puck in A Midsummer Night's Dream, he brings Shakespeare alive for us in this sparkling and inventive work fusing drama, poetry and consummate clowning. These poems are onstage, under the lights, dressed in greasepaint and tights. Some of them are vaudeville acts, others are new stagings of Shakespeare's plays, scripts for Punch and Judy puppet theatre, stand-up comedies and carnie shows, while others include versions of Shakespeare's sonnets set on prime time television.
Hamlet is being written by 10,000 monkeys locked in a room, and a review of Macbeth is played in the City of Fools. Settings range from the London Blitz, to Chernobyl and the Cariboo, and from Berlin in 1933 to the Globe Theatre in London, where the actors and their roles change places and are faced, at last, with the choice of free will. In these alternately satiric and elegiac poems, crossing the line between dreaming and waking, Rhenisch gives us the world as a tragi-comic theatre in a provocative vision of human intelligence and transformation.
Along the way, Rhenisch teases truth, recasts Shakespeare's major tragedies so they focus on their women, and puts on and takes off masks, always with the goal of freeing Will Shakespeare and releasing the passion of the poetic and dramatic traditions from the cloak of habit. This is Rhenisch the trickster at his best, in poems that both renew the lyrical and satiric traditions, and move them into a new sense of myth and light-footed irony.
"Obsessive and dark, Free Will twins Shakespeare with Fellini — all the world's a stage where we're trapped as participant and witness at the precipice of time. This is a cultural ragbag, exuberant, vicious and tender. Rhenisch says, 'To have a mind is madness,' and then goes on to show how it carves out survival."
— Marilyn Bowering
Also by Harold Rhenisch:
__________________________________________________________________________________________________
Reviews
"Master of smoke and mirrors, Rhenisch moves through ideas and personae like the Bard himself."
— Prairie Fire
"Free Will is certainly one of the year's singular poetry collections, a work of both charm and power"
— Vancouver Sun