Freedom Bound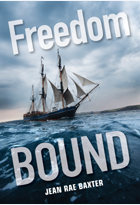 Freedom Bound
$11.95
February 2012
ISBN 978-1-55380-143-6
ebook ISBN 978-1-55380-153-5
PDF ISBN 978-1-55380-174-0
5 1/4″ x 7 5/8″ Trade Paperback, 256 pages
Young Reader Novel – Ages 9 to 12

In this, the final instalment of Jean Rae Baxter's best-selling young adult trilogy, eighteen-year-old Charlotte sails from Canada to Charleston in the beleaguered Thirteen Colonies to join her new husband Nick. During these final months of the American Revolution, she must muster all her wit and courage when she has to rescue Nick from being tortured as a spy in an alligator-infested South Carolina swamp. She must also find ways to bring freedom to a pair of teenage runaway slaves she has befriended. Freedom Bound delivers a frank and realistic picture of the slave system and a powerful account of what was at stake for both white and black Loyalists as they prepared to find a new home in the country that was soon to be Canada. Like The Way Lies North and Broken Trail, the two novels that preceded it, Freedom Bound contains a wealth of carefully researched historical details of one of the least known chapters of our history.
Click here to read Chapter One of Freedom Bound
SHE COULDN'T SEE Nick anywhere.
Charlotte stood at the bow,her eyes searching the wharves as the Blossomentered Charleston Harbour. Around her, the other passengers'voices mingled with the sounds of sailors shouting, water lapping against the wooden hull, spars creaking and gulls shrieking.
The harbour was clogged with ships.There were warships of King George's Royal Navy, merchant ships, transport ships, slave ships, and the hulks that held prisoners of war. Except for the hulks, every ship carried guns. Even the Blossom, with its twelve passengers and its cargo of tallow and hides, was
armed with twenty guns. What with French, Spanish and rebel warships on the hunt for any vessel flying a British flag, the seas were perilous all the way from Nova Scotia to the
Carolinas.
At Charlotte's side stood Mrs.Dickinson,the purser's wife.
The only other woman on board,she was short and sturdy,
with a red nose and cheeks roughened by sun and wind.
"Do you see him yet?" Mrs. Dickinson asked.
"Not yet. When we're closer, he'll be easy to spot. Nick's very tall."
But when the ship moored at its wharf and the sailors were lowering the rope ladder over the side, Charlotte still had not seen him.
"Even if I can't spot him in the crowd, he's sure to see me,"
said Charlotte. "I'll be the only woman climbing down the ship's ladder, except for you."
"Me! Merciful heavens! You won't catch me on that ladder one more time than I can help! Climbing it to come aboard was quite enough for me."
"Don't you want to see Charleston?"
"No, thank you." Mrs. Dickinson shook her head firmly.
"From what I hear, the streets swarm with refugees, cutpurses and runaway slaves. I've no wish to go ashore. My only reason for going to sea is to be with my husband. If I didn't, I'd never see him at all."
"I know what that's like. Nick and I have been married more than a year. In all that time, we've spent a total of twenty-two days together."
"At that rate, you can hardly call yourself married, if you ask me."
There've been times I thought so, too. But everything's about to change. After three years as a courier, Nick has been attached to the Civilian Department of the Southern Command. He's been given a room of his own in the officers' quarters, and I have come to Charleston to join him."
Charlotte stepped away from the rail."If you'll excuse me, Mrs.Dickinson, I'm eager to go ashore."
"My best wishes go with you!"
"Goodbye and thank you. It's been a comfort not to be the only woman on the ship."
Hurrying to the spot where sailors had lowered the rope ladder, Charlotte was first in line when the gate in the rail was opened.
"Careful there, young lady!" a sailor warned, holding out his hand to offer help. But she was already over the side, her foot reaching for the next rung down.
"That lass is fit for a life at sea," another sailor laughed.
"I'd like to see her up in the rigging," the first chortled, "with those skirts blowing in the wind."
She pretended not to hear.
Charlotte was eighteen years old. She had black hair, pink cheeks, and lively brown eyes. For her arrival in Charleston, she was wearing a blue cloak over a plum-coloured woollen gown—her first new garments in four years. Nick had sent five pounds sterling from his pay so that she could purchase
clothes in Quebec before embarking.
If she had been wearing breeches on the voyage and not a long cloak and gown, she would have loved to climb up in the rigging, where wind filled the sails,as far away as possible from her berth between the decks.
Charlotte thought that whoever gave the Blossom that name must have had an odd sense of humour, for her quarters had reeked of pitch, bilge water, and human waste—a noxious stench that nearly turned her stomach. She had heard rats skittering and squeaking, and sometimes she saw one. Although it was cold on the Atlantic in winter, she had spent almost every waking moment on deck. Even so, she felt as if the stink of the ship would cling to her clothes forever.
As soon as she was standing on the wharf, Charlotte resumed her search for Nick, her mind refusing to accept what her eyes told her.
A young officer stood a few yards away, his red coat and white cross belts making him stand out from the crowd. From under the brim of his tricorn peered a pair of eyes that seemed fixed on her. She turned away, avoiding eye contact. As she continued to look for Nick, she could not suppress
the rising fear that something had gone wrong.
When she happened to notice the young officer again, he was still staring at her. The steadiness of his gaze forced the truth upon her. Nick was not here. This stranger had come to meet her. Their eyes met. She did not look away.
The young officer stepped forward. He bowed.
"Have I the honour of addressing Mrs. Charlotte Schyler?"
"I am Charlotte Schyler." She held her breath, waiting.
"Captain Ralph Braemar, South Carolina Royalist Regiment, at your service. Nick asked me to meet you. He is most unhappy not to be here."
"Has something happened to him?"
"No. Nick is well."
"Then why…why isn't he here to meet me?" Her words caught in her throat. She had travelled three weeks in a stinking ship, enduring every kind of hardship cheerfully because she believed that as soon as she stepped ashore, Nick would be there to welcome her.
Captain Braemar looked around before he spoke,as if to make certain that no one could overhear. "He's been ordered to the backcountry."
"You mean the army is still using him as a courier? I thought that was finished. He wrote to me that he's now attached to the Civilian Department."
"He was. But the military needed someone to go into the interior of South Carolina to gather information. We think there's considerable support for the King, but with so much persecution of Loyalists, hundreds have taken to the swamps to hide. General Cornwallis needs to know how much active
support the army can expect. Nick has the skills to find that out."
Her voice shook."Are you telling me that Nick is a spy?"
"Shh!" His voice sank to a whisper. "You could say that. But you don't need to worry. If the rebels couldn't capture him when he was a courier, they can't catch him now."
"I suppose you're right." She wanted to believe this. For three years she had forced herself not to worry about Nick. But she knew that a spy, like a courier, faced hanging if he were captured.
"As soon as he received his orders, Nick wrote to warn you not to come to Charleston. His letter went by ship to Canada about six weeks ago. Since he knew it was unlikely to reach you in time to stop you from setting out, he made me promise to meet every ship. He didn't want you to arrive and find no one waiting."
She looked around at the dozens of wharves and the dozens of ships at dockside or anchored in the harbour.
"You've met every single ship that arrived this winter?"
"Yes, ma'am. I haven't missed one ship flying the British flag."
"Thank you, Captain Braemar. I am most grateful."
"It was no more than friendship requires." He bowed again. "Now let's find your trunk. If we stand on the steps of the Exchange, we can watch the wharfingers unload the ship. They always start with the passengers' boxes. As soon as those are on the wharf, I'll hire a man with a pushcart to carry your trunk." He offered Charlotte his arm.
"Is the Exchange that beautiful big building on the waterfront?" She took his arm. "It's so grand, I thought it must be the Governor's palace."
"No ma'am. The Exchange is our customhouse. It was built for commerce and for important social events. Underneath there's a vault where we lock up political prisoners."
"Oh." She shivered. "A dungeon?"
"Yes. We call it the Provost Dungeon. It wasn't built to be a dungeon, but that's what it's used for now. We don't have enough room in the hulks to hold all the prisoners of war, and the city jail has been turned into barracks for soldiers. Charleston is an occupied city, you know, and we're at war."
"Nick warned me that I wouldn't like everything I saw."
"It's not so bad, really. You'll be comfortable in the officers'quarters. Nick is lucky they assigned him a room."
When they had mounted the steps of the Exchange, they stood watching as the wharfingers, manning a clumsy wooden crane, unloaded an assortment of boxes and trunks and sea chests onto the dock.
"I see my trunk," she said after a few minutes.
"Wait here. I'll find a carter." He walked down the steps, leaving her waiting.
Charlotte pulled her cloak closer about her shoulders. She felt a twinge of panic as Captain Braemar disappeared in the crowd. What if something happened to him? Then what would she do in this unfamiliar city where she didn't know a soul?
Click here to close the book excerpt.
Other Ronsdale books by Jean Rae Baxter:
Reviews and Awards

Awarded Bronze for Historical/Cultural Pre-Teen Fiction in the Moonbeam Awards

"By far Baxter's most dramatic historical fiction . . . Jean Rae Baxter brings the sights and sounds as well as the smells of the streets of Charleston and the miry swamps of the backcountry to life with her vivid descriptions that add to the drama of this well written novel." —The Loyalist Gazette

"Through Charlotte, Baxter cleverly incorporates details revealing how different life was for women, depending on their class and skin colour, and for enslaved people during this period in American history. . . . Baxter's storytelling is energized by the constant unexpected turns of events and by a protagonist who uses her wit and ingenuity to find solutions in life-threatening situations, resulting in a fast-moving, but realistic, page-turner appropriate for ages 12 to 16." —Karri Yano, Canadian Children's Book News

"This novel's 256 pages are filled to the brim with not only historical details that touch on slavery, battles, and more, but are also full of creative flair from the author." —National Post, the Afterword

"Baxter communicates on two levels, weaving historical detail into a formidable tale while positioning it at younger readers who readily soak up the adventure and the exciting history." —Hamilton Spectator