From a Speaking Place: Writings from the First Fifty Years of Canadian Literature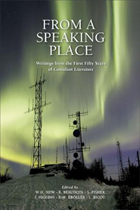 From a Speaking Place
Writings from the First Fifty Years of Canadian Literature
Edited by W.H. New, R. Beaudoin, S. Fisher, I. Higgins, E-M. Kröller, L. Ricou
$24.95
Autumn 2009
ISBN 978-1-55380-064-4
6″ x 9″ Trade Paperback, 450 pages
Literary Criticism


Which famous Canadian poet is a "gunman"? When did Bangalore move to Saskatchewan? Why is poetry a painting? a crime? What rare advice can you find in Romance novels? Who sings with the frogs? And what ever did happen to Pauline? Answering these and other questions, From a Speaking Place invites you into a conversation about what it means to be a reader and a writer in Canada.
This Canada — this aurora-capped northern land — speaks: of Inuit voices and Al Purdy's "rock gothic," of Bombay and Trinidad, of "great traditions," urban findings, laughter, Acadia, nation, translation, theatre, exploration, life stories and more, from official languages and le monologue quebecois to Marshall McLuhan and "Hollywood Not."
From a Speaking Place brings together 63 essays, notes, and interviews from 50 years of contributions to Canadian Literature, Canada's foremost journal on the country's writers and writing. You'll find here such stylish writers as Margaret Atwood, Gérard Bessette, George Bowering, George Elliott Clarke, Wayde Compton, Basil Johnston, Janice Kulyk Keefer, Thomas King, Margaret Laurence, George Ryga, Andreas Schroeder, Audrey Thomas, Tom Wayman, Rudy Wiebe, and George Woodcock.
Illustrated by George Kuthan's woodcuts, the book celebrates Canadian Literature's 50th anniversary in 2009. It also, by re-encountering in this new context what contributors have said over five decades, listens again to why their ideas matter.