Holding One's Time in Thought: The Political Philosophy of W.J. Stankiewicz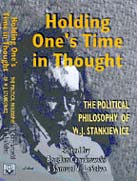 Holding One's Time in Thought
The Political Philosophy of W.J. Stankiewicz
$18.95
Autumn 1997
ISBN 978-0-921870-52-4
ebook ISBN 978-1-55380-408-6
PDF ISBN 978-1-55380-409-3
6″ x 9″ Trade Paperback, 408 pages
Political Science, Philosophy, History
Also available in Hardcover (ISBN 978-0-921870-51-7) for $37.95.


This collection of essays evolved from a colloquium held at the University of British Columbia in 1995 to honour the eminent political scientist and aphorist W.J. Stankiewicz. A theorist and consultant on political decisions, Stankiewicz has been noted for his ability to bring the classical concepts of political science into the decision-making rooms of everyday political action. He has written on concepts such as democracy, ideology, liberalism, equality and justice, authority and sovereignty, violence and social change, property and happiness.
Among the distinguished Canadian and American contributors are Alan Cairns, Jean Bethke Elshtain, George Feaver, Barry Cooper, Anthony Parel, Arpad Kadarkay and Ian Ross. The contributors, some of whom were Stankiewicz's students, have not only explored and extended the central ideas of Stankiewicz's thought; they have also applied them to today's political situations. The volume concludes with two of Professor Stankiewicz's hitherto unpublished essays (on natural law and ecology, and truth in politics).