I Just Ran: Percy Williams, World's Fastest Human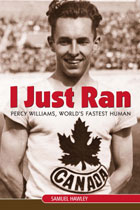 I Just Ran
Percy Williams, World's Fastest Human
$23.95
September 2011
ISBN 978-1-55380-126-9
ebook ISBN 978-1-55380-132-0
6″ x 9″ Trade Paperback, 332 pages
Biography, Sports


At the 1928 Amsterdam Olympics an unknown Vancouver runner named Percy Williams shocked the sports world by capturing the 100- and 200-metre gold medals. Some said the feat was a fluke. It wasn't.
In 1929 Percy silenced naysayers by sweeping the US indoor track circuit, then he went on to set a world record in the 100 metres that would stand until the arrival of Jesse Owens. And in between he
waged a speed duel with the fleetest men on the planet, a battle for track supremacy and the title "World's Fastest Human."
Based on extensive research that included access to Percy's private letters, diary and scrapbooks, I Just Ran is the first full-length account of this sports legend, one of the most famous Canadians of his day but now largely forgotten. It begins as the Cinderella story of a youth who conquers a sport dominated by American sprinters.
Then it gets grittier, for success and fame had a dark side. I Just Ran follows Percy and his janitor-coach Bob Granger as they journey through the world of elite running in the 1920s and '30s — a world that was not always pretty beneath the veneer of amateurism.
"Hawley has constructed an absolutely excellent book on the life story of a mysterious and often misunderstood Vancouver track legend. As a researcher with a healthy interest in Percy's career, I would wholly endorse Hawley's book as the best account of the life of Percy Williams yet written."
— Jason Beck, Curator, BC Sports Hall of Fame
REVIEWS AND AWARDS
Silver Medal in the Independent Publisher Book Awards!!
"I Just Ran is a classic story of an unwilling hero's journey. The prose is beautiful and the book includes photographs of Williams, his family, and the coach who nurtured and supported his athletic career."
— Norah Myers, Canada's History
"If you're into memoirs or biographies, I strongly recommend I Just Ran…"
— Literary Press Group
"Hawley's compelling biography draws from Williams' private archives of letters, diaries and scrapbooks and traces his movement through the world of elite running in the 1920s and 1930s, to his life and death beyond the track." — K. Jane Watt, British Columbia History
"This thought-provoking book leaves the reader pondering the psychological cost of achieving too much at too young an age and then not being able to cope with the acclaim that comes following that." — CBC Books
"Samuel Hawley, a Kingston writer and historian, has penned a masterful account of Williams' spectacular rise and fall, drawing on the sprinter's private letters, diary, and scrapbooks." — Ottawa Citizen
"If there has been a more thorough and necessary sports biography of a British Columbian in recent decades, we haven't seen it." — BC Bookworld
"Hawley has produced an outstanding re-creation of the complexities of [Percy's] life by an exhaustive use of every personal and media reference." — Doug Clement