Our Friend Joe: The Joe Fortes Story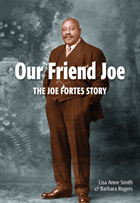 Our Friend Joe
The Joe Fortes Story
$21.95

When a young black man named Seraphim "Joe" Fortes arrived in Vancouver in 1885, with little to his name, no one could have possibly suspected that one hundred years later he would be voted "Citizen of the Century." Our Friend Joe is the first biography of the West Indian sailor who became a local legend, saving dozens of lives and teaching three generations of Vancouver children how to swim. On a chance rowboat ride not far from the city, he would find his "perfect place" in English Bay, where the untold story truly begins. In 1900, after years of volunteering, Joe was officially hired by the City as lifeguard, swimming instructor and special constable of English Bay beach. Colourful, often poignant details chronicle Joe's many adventures both on and off shore, his genuine rapport with citizens of all ages and his deeply personal relationship with one Vancouver family. On February 7, 1922, thousands of mourners lined Vancouver's streets to bid farewell to "our friend Joe." His legacy continues today, with one of Vancouver's libraries named after him. Part of the proceeds from this biography are being donated to the Lifesaving Society/Société du Sauvetage, Canada's national organization for lifeguarding and water safety expertise.
Click here to read Chapter One of Our Friend Joe: The Joe Fortes Story
Chapter 1
Trinidadian Roots
For a man who was to have such a profound impact on the youth of Vancouver, Joe's own childhood is shrouded in mystery. Despite much research, no birth certificate or record has ever been found. In an 1891 Canada census, Joe gave his birthplace as Barbados. A 1901 census listed Trinidad as his
birthplace. A 1911 census offered nothing more definitive than "West Indies." There continues to be some debate over Joe's origin, but in all early interviews, he confirmed his birthplace and childhood home as Trinidad. An exact birthdate is also hard to establish—was it February 9, 1863? Or was it 1865? Again thedates in the censuses conflict. What we do know is that Joe's West Indian father was a sugar plantation worker, his mother a woman of Spanish ancestry. This mixed race parentage resulted
in Joe's skin being a tone of chestnut brown, rather than the typically darker colouration of West Indians.
Further information about Joe's background may be gained through a short study of Trinidad's history. Discovered by Christopher Columbus in 1498, Trinidad lies thirteen miles north of the Venezuelan coast. For many years the island languished under Spanish governance. The land was covered with a nearly impenetrable forest of tropical vegetation. Trinidad's wet season extends from June through December, pummelling the island with heavy rains—Joe was obviously well-prepared for Vancouver's overcast skies. Any semblance of industry amounted to little more than a scattering of small farms. In 1783, observing a largely Amerindian population of less than three thousand, the Spanish crown offered thirty-two acres of free land to white colonists and half that amount to "free Negroes" and persons of colour. Conditionally, each new arrival had to be Roman Catholic and from a country friendly to Spain. So began
a slow but steady colonization of Trinidad. It is quite possible that some of Joe's maternal ancestors were among those who accepted the generous Spanish offer.
On February 18, 1797, Spanish rule abruptly ended when Governor José María Chacón surrendered to a British fleet of eighteen warships under the command of Sir Ralph Abercromby. By 1802, a widely diverse Trinidad populace was formally ceded to the United Kingdom. Like most Trinidadians in the nineteenth century, Joe proudly considered himself British to the core.
Trade vessels from Liverpool and Southampton, similar to the ones Joe would sail on in his teenage years, nosed up to the Port of Spain dockyards in ever-increasing numbers as demand for Caribbean products grew. Sugar, the white gold that had fast become a staple on European dining tables, was particularly sought after. At the time of succession, about 150 sugar estates were established along the drier west coast of Trinidad. By midcentury, with generous British financing, sugar was at peak production, never falling below twenty thousand tons per year. In 1866, a record forty thousand tons of sugar was harvested, and plantation owners basked in the wealth. Joe grew up in a world that revolved around the sugar industry.
Under the leadership of Lord Harris, governor of Trinidad from 1846 to 1854, the island had been divided into eight counties, each of which was subdivided into wards. Although little is known of Joe's educational background, he probably attended one of the "ward schools" that had been established for primary age students. Education in nineteenth-century Trinidad was a haphazard process, often dictated by work obligations in the cane fields or the ability to navigate mud-laden roads to the schoolhouse during the wet season. It is said that a Trinidadian teacher spent more time luxuriating in a hammock than in front of a classroom while absent pupils helped with the harvest. As a subject of the British crown, Joe would have been taught in English, recognized as the official language of Trinidad since the 1802 succession. Upon completion of his primary studies, Joe would have been faced with a simple decision—attend one of the two island colleges, or continue his secondary education abroad.
During his teenage years, Joe may have attended St Mary's College, the sole institution for young Catholics in 1870s Trinidad. The alternative, Protestant faith–based Queen's Collegiate School, had been angrily condemned by the Roman Catholic Archbishop Ferdinand English some years earlier. St. Mary's College, opened in 1863, offered boarders and day students courses in Latin, Greek, English, French, Spanish, history, ancient and modern geography, science, mathematics and music. The two official
languages of the school were English and French. Boarders were required to pay 192 Trinidad and Tobago dollars per year and dayboys, students who returned home each evening, paid seventy-two Trinidad and Tobago dollars. The Sunday or dress uniform was black, while the weekday uniform included grey pants and a straw boater. Life at St Mary's was not easy. Discipline was severe, with floggings administered regularly for misbehaviour. The cause of some of the misbehaviour was the intense rivalry between the island-born students and those who had come across the water from Venezuela.
By his own admission Joe was not a scholarly individual, in contrast to his younger brother who was being groomed to study medicine abroad. He had learned cursive handwriting but his letters were awkward and stilted. The two examples of Joe's penmanship that can be found today on Vancouver City Archives
microfiche—an autographed note and a (presumed) reference to a photograph—are written in a crude form of Spanish, suggesting that he may have been educated partly at home by his mother or another individual of Hispanic origin. In 1943, City Archivist Major James Skitt Matthews attempted to decipher the carefully
preserved originals. The well-meaning Major scrawled his own annotations and theories beneath Joe's handwriting:
"An inquiry esta de Serafim Fortes"—What I think has happened is this. Some one of his friends has asked him for an autograph and to please them he has done his best. Not being a good scholar he did the best he could, and probably tried to say "This is a relic (or souvenir) of Seraphim Fortes," ie. Joe Fortes
of English Bay.
J.S. Matthews, 8 July 1943
The second note was given similar treatment:
"esta vista Bo baca"—It may be that he is intending to say that the view of English Bay from his cottage on Beach Avenue, just west of his monument in Alexander Park. His cottage was between Beach Avenue and the sandy shore.
J.S. Matthews, 8 July 1943
Whatever he lacked in academic capabilities, it would soon become clear that Joe was an athlete at heart. Swimming, the sport for which Joe would one day become renowned, was a surprisingly obscure pastime in nineteenth-century Trinidad. Public swimming pools were non-existent, and the local beaches around Port of Spain were thick with mud and home to a thriving number of prickly sea urchins and stingrays. North shore surf was treacherous, with strong undertows that could render even the most capable swimmers helpless mere feet from shore.
Recreational opportunities on the whole were scarce for natural athletes like Joe. Queen's Park Savannah, originally a 260-acre plot of sugar land on the outskirts of Port of Spain, was purchased from the Peschier family in 1817 by the town council. By 1854, the park featured a horse-racing oval and grandstand, but pitches for football, rugby and cricket were yet to be realized. Did Joe develop his rowing prowess on the fringes of Caroni Swamp at sundown, enjoying the phenomenon of scarlet ibises
flocking to roost atop the mangrove trees? One can only surmise. But by the age of seventeen, Joe was ready for life beyond the confines of Trinidad.
Click here to close the book excerpt.
In honour of Black History Month Joe Fortes, the beloved lifeguard, is now featured on Canadian postage stamps.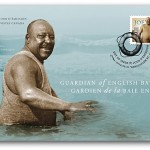 ---
Reviews & Awards:
"Our Friend Joe is a brisk read about a stalwart Vancouver character. … The Joe Fortes story is inspiring, illustrating how character and fortitude can shape a community." —Tanja Hütter, Canada's History

"What was it that made Fortes outstanding? Certainly he saved many lives along the beach […] and he was something of a genuine hero of the sort we usually call 'unsung'…" —John Douglas Belshaw, BC Studies

"The Vancouver legend that is Joe Fortes is finally getting his due. Every page of this gem of a book resonates with stories long handed down by word of mouth, now on paper for newcomers as well as old-timers to enjoy. I left a smile or a tear on almost every page. Joe Fortes was Vancouver at its best." —Jean Barman

"This is valuable history for a province that too easily forgets its roots. It is the charming story of a black lifeguard whose spirit captured the heart of a rough-hewn pioneer city." —Douglas Todd

"[This] book is a quick, heart-warming read that develops a clear picture of Fortes as a public man and credits him with helping shape the city during its infancy and fostering its recreational fervour." —The Vancouver Courier