Return to Open Water: Poems New & Selected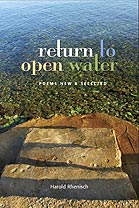 Return to Open Water
Poems New & Selected
$15.95
Autumn 2007
ISBN 978-1-55380-050-7 (1-55380-050-8)
6″ x 9″ Trade Paperback, 150 pages
Poetry


To Harold Rhenisch, poetry is a wisdom path equal to Zen, or a pilgrimage on the holy road from Seville to Minsk. Here is a breadth of musicality ranging from solo piano improvisations to jazz quartets, klezmer music, music hall, and even operatic arias. In this spirited celebration of the creative spirit, Rhenisch presents a vision of the world that places Canada, and poetry, at the crossroads of world culture.
Included are a hymn for whales, a love poem for herring, black-comic stagings of Shakespeare, tongue-in-cheek deconstructions and celebrations of philosophy and literature, laments for the missteps of history, enraged political blasts, and deep ecological lyrics. Mozart enters riding the bulls into the Williams Lake Stampede, and a rhinestoned Jesus sings Elvis lyrics on a car hoist at Canadian Tire.
In Return to Open Water this award-winning poet, critic, and cultural critic fuses American, British and European verse traditions into a poetics able to reimagine literature and history and return them to us in illuminated form. Long-praised for his innovative creative nonfiction and his mastery of the long poem form, in this volume Rhenisch presents the roots of that intelligence and its furthest extensions. This "New & Selected" presents the best poems — comical, elegiac, satiric and lyrical — from the twelve volumes of verse of one of Canada's best, most original, and most mercurial poets.
"Everything past and present composts in this rich collection of poetry which feeds the roots of the trees Harold Rhenisch persuades into a cathedral shape. This book, a temple with a sweet grass floor, raised voices, echoes, soaring spires and the blessing of rain, is the organic church of poetry."
— Linda Rogers
Also by Harold Rhenisch:
__________________________________________________________________________________________________
Reviews
"Mapping the gradual maturation of the B.C. interior's unofficial Poet Laureate, Return to Open Water suggests that the best might still be yet to come from Harold Rhenisch"
— The Goose
"A new Herold Rhenisch collection is something to be savoured, saved to be read on a special day. It's like sinking slowly into a luxurious bath, and emerging later, still warm, wrinkled but rejuvenated."
— Prairie Fire