River of Gold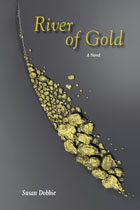 River of Gold
$19.95
Spring 2009
ISBN 978-1-55380-071-2
6″ x 9″ Trade Paperback, 200 pages
Novel


In this sequel to the best-selling novel When Eagles Call, two Hawaiian labourers — Kimo Kanui and his friend Moku — end their contract with the Hudson's Bay Company in Fort Langley and trek north to join the great Cariboo gold rush of the early 1860s. Along with a black man from the Carolinas and a native Sto:lo woman won and freed in a card game, they face dangers and challenges along the trail as winter sets in.
Gun-toting Californians, drunken miners, hostile natives as well as characters from British Columbia's history — James Douglas, Judge Begbie, Ovid Allard and Cataline — stride through the novel. River of Gold takes the reader on a journey through B.C.'s tumultuous history as the Hudson's Bay rule over New Caledonia ends and the province of British Columbia begins. It's a story of war and peace, of greed, of friendship and hatred, and of a man and a woman of different cultures learning to love again.
It is a story of the Cariboo, that great leveller, where a person's mettle counted more than purse or pedigree, where strong men and women from all corners of the globe came together to forge a new and different society for British Columbians.
Also by Susan Dobbie:
__________________________________________________________________________________________________
Reviews & Awards
Finalist, ForeWord Reviews Book of the Year Awards (historical fiction category)
"Deserve[s] to be known and read."
— Vancouver Sun
"a seamless story of fact and fiction … throughout there is history to be absorbed, humanity to be understood, phrases to recall, images to remember."
— subTerrain
"An entertaining and instructive novel…. The author delivers a remarkable and unique perspective…. The reader's reward is greater insight into the diverse and dramatic roots of early British Columbia."
— British Columbia History
"I really enjoyed this book. The author has portrayed an exciting historical period and has worked in plenty of details without slowing down the pace of the novel."
— Prairie Fire
"The novel is picaresque in the best sense of the tradition of that sub-genre. It is linear and unsentimental, and does what good novels do: spin a story and bring some characters into the literary world. It is a close history of social and political upheaval, and champions the struggling individual at a dramatic moment in Canadian life."
— Small Press Review
"The novel is convincingly researched and celebrates the Cariboo's rich history."
— Books in Review