Essentials, The: 150 Great BC Books & Authors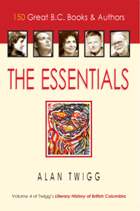 The Essentials
150 Great BC Books & Authors
$24.95
Autumn 2010
ISBN 978-1-55380-108-5
ebook ISBN 978-1-55380-119-1
6″ x 9″ Trade Paperback, 320 pages
Literary Criticism


Lively, illustrated and guaranteed to be controversial, The Essentials: 150 Great BC Books & Authors serves as an unprecedented guide to books from and about British Columbia — culled from Alan Twigg's unrivalled knowledge of more than 200 years of BC literary history. It also identifies 100 essential authors, such as Alice Munro, Earle Birney and Eric Nicol, who did not have one particular book that is outstanding but have enjoyed outstanding careers.
In addition to the "essentials," Twigg also describes numerous other authors and books that have played an important role in BC's history. It is an encyclopedia of BC books, illustrated with numerous photos, many of them full-page. With the cooperation of UBC Special Collections and Simon Fraser University Library, this volume links the reader to thousands of important BC books and authors that can be researched on the author's public reference site, abcbookworld.com. The Essentials is a must-have for anyone who cares about British Columbia as an original society.
"The Essentials is a must-have for anyone who cares about B.C." —Jean Barman, Historian

"When it comes to writing and publishing on the West Coast, Alan Twigg has been heroically ubiquitous." —Douglas Gibson, Editor
Click here to read a sample from The Essentials
DOUGLAS COUPLAND
Generation X: Tales for an Accelerated Culture (1991)
by Douglas Coupland
Douglas Coupland has proven himself—with 21 books in 19
years—to be unfailingly original, tirelessly inquisitive and an
artist unafraid to take risks. It's a slam dunk to include Coupland's
famous "magazine-style" first novel Generation X (1991) when citing
the foremost titles by B.C. authors, so much so that one can
easily overlook its important subtitle. Just as George Orwell's Animal
Farm was first released as Animal Farm: A Fairy Story, Coupland's
round-the-world-in-multiple-translations debut has a seldom-mentioned
subtitle, Tales for an Accelerated Culture, which indicates
Coupland operates as a social commentator as much as a novelist.
His increasingly poignant, barometer-like readings of popular culture
bristle with a reluctant wit.
Born in 1961 on a Canadian Armed Forces Base for NATO in
Germany, Coupland attended Sentinel High School in West Vancouver
where he had a non-religious upbringing. His adjunct career
as a sculptor led him to attend the Emily Carr College of Art
and Design in Vancouver, the Hokkaido College of Art and Design
in Sapporo and the Istituto Europeo di Design in Milan. In
1987, he began describing his own "twentysomething" generation
for Vancouver magazine, edited by Malcolm Parry. During a stint
with Vista magazine, he revised his Vancouver article on Gen-X as a
comic strip. He was subsequently contracted to write a non-fiction
handbook on Generation X. Coupland went to Palm Springs and
completed his "edgy, funny and hip" story of three young refugees
from the world of yuppie wannabe-ism who are under-employed,
over-educated and intensely private. The manuscript was rejected
by 15 Canadian publishers and 14 American publishers before it
appeared in 1991.
Since then Coupland has been increasingly concerned with characterization
in his novels, while also working as a designer and
visual artist. Recent novels have dealt with faith, or acknowledgement
of God, or lack thereof, amid the diversions of a consumer
culture and technology. Hey Nostradamus! (2003) explores the aftermath
of a fictional shooting spree in North Vancouver's Delbrook
High School cafeteria. Microserfs (1995) used the corporate backdrop
of Microsoft headquarters in Seattle to depict the high-tech
and somewhat geeky lives of employees "who realize they don't
have lives." Some plots can be far-fetched. In Girlfriend in a Coma
(1998), a high school senior named Karen Ann McNeil descends
into a coma after a skiing accident—and gives birth to a child
nine months later. She remains comatose for 18 years. Set in the
near future when honeybees are almost extinct, Generation A (2009)
starts when five people around the world are stung simultaneously.
Coupland has produced eight non-fiction titles, including
appreciations of Terry Fox, the city of Vancouver and Marshall
McLuhan. In 2010, he began his own clothing label with Roots.
Click here to close the book excerpt.
Alan Twigg's Literary History of British Columbia:
Reviews & Awards:
Honourable Mention: Lieutenant-Governor's Medal for Historical Writing, 2010.

"3.5 stars (out of 4). …Presents known and unknown authors of fiction and nonfiction, biography and poetry in readable format with intriguing insights into the lives of B.C. writers…. Highly Recommended." —CM Magazine

"Twigg's work is itself essential. . . . He successfully draws attention to little-known individuals. . . . It is in locating these lesser-known individuals as essential that Twigg's volume finds excellence." —Canadian Literature

The Essentials was listed as recommended reading by CBC's Mark Forsythe (BC Almanac).