Story of Dunbar, The: Voices of a Vancouver Neighbourhood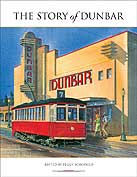 The Story of Dunbar
Voices of a Vancouver Neighbourhood
$39.95
Spring 2007
ISBN 978-1-55380-040-8 (1-55380-040-0)
ebook ISBN 978-1-55380-093-4
8-1/2″ x 11″ Trade Paperback, 446 pages
Urban History


This home-grown history of a Vancouver neighbourhood speaks to the need people still have, in a time of infinite possibilities, to connect deeply with the place they call home. The Story of Dunbar is a celebration of community roots and a sense of place. The documentation of Dunbar's history, complete with archival photos from private collections, will resonate with those who live in neighbourhoods with stories waiting to be told.
The Story of Dunbar draws on interviews with more than 350 local residents, including both recent arrivals and descendants of pioneers. Their personal accounts are woven together with information from diaries and other records in the City of Vancouver Archives and carefully chosen published sources to form twelve chapters that explore different aspects of community life.
The Musqueam First Nation, the early settlers, the arts, churches and schools, how people shopped and how they got around, where they lived and relaxed are all described. Read about how this "streetcar suburb" developed from forest and farmland, how it was impacted by world events, and what made it both typical and unique.
This is a story of the past century — from the settlement of the West to the development of a modern world-class city — brought to life through the experiences of people living in the neighbourhood of Dunbar. It is a reminder that history occurs in the streets of quiet out-of-the-way neighbourhoods as surely as on battlefields and in corporate boardrooms.
"This book is packed with goodies! . . . I learned about all those golf courses, about 'Vancouver specials,' . . . and about how the special character of Dunbar was developed and is maintained."
— Chuck Davies, author of The Vancouver Book
"The Story of Dunbar is a wonderful effort by a community to capture its own history and has set the standard for all others to follow."
— John Atkin, co-author of Heritage Walks Around Vancouver
"History . . . is brought to life through fascinating personal stories and experiences. This book is a delight to read."
— May Brown, community activist and former Vancouver city councillor
__________________________________________________________________________________________________
Reviews & Awards
BC Historical Federation Award
"The Story of Dunbar is a thorough account of an eclectic neighbourhood, its characters and landmarks. Memory and imagination are sparked by scores of photos."
— Vancouver Sun
"This book would be a valuable addition to any collection of local histories and a fascinating and interesting read for anyone who was raised in the area."
— British Columbia History
"a valuable, scale-specific perspective on the dynamics of community building . . . Every neighbourhood deserves such a carefully crafted record of its beginnings"
— Canadian Literature
"The Story of Dunbar is especially good at evoking past ways of living by paying attention to the material world"
— BC Studies
"Essential reading for anyone with family roots in the Dunbar area."
— Genealogical Resources
"lively, highly readable and lavishly illustrated"
— Vancouver Courier