Tragic Links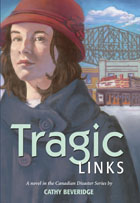 Tragic Links
$10.95
Spring 2009
ISBN 978-1-55380-066-8
5 1/4″ x 7 5/8″ Trade Paperback, 190 pages
Young Reader Novel – Ages 9 to 12

Tragic Links is award-winning author Cathy Beveridge's fourth young adult novel focusing on Canadian historic disasters. This time Jolene and her family find themselves in Quebec where her father is conducting research for his Museum of Disasters. From the first, Jolene finds herself caught up in an old family feud and a new romantic friendship with Stephan, a Mohawk descendant who is also her grandmother's neighbour.
When Jolene finds a time crease, she discovers Montreal in the 1920s and her own personal look-alike. Despite Stephan's warnings, Jolene is determined to get to know her double, a decision that ultimately situates her in the midst of the devastating fire at a 1927 children's matinee in the Laurier Palace Theatre. After a narrow escape, Jolene travels to Quebec City with Stephan and her family where she witnesses the Quebec Bridge collapse of 1907 and the tragic death of 75 steelworkers, many from the Mohawk nation.
This novel explores several contemporary young adult issues, from generational problems to the nature of friendship to the difficulties of young romance. Through it all, Jolene grows in her understanding of her family, her insight into her own past, and her ability to comprehend her emotions.
Cathy Beveridge's Canadian Disaster Series:
Reviews & Awards
Winner of Bronze Medal, Moonbeam Children's Book Awards
"Tragic Links emphasizes the value of the lessons history teaches to those who listen. Through Jolene's physical journeys into the past, and through the imaginative journeys prompted by her relatives' oral stories, Beveridge illuminates bygone times."
— Montreal Review of Books
"Canadian history can seem like a boring and daunting topic for young teens, but this award-winning author has found a way to liven up the subject matter, making it memorable for its readers by retelling its stories through the eyes of a teenager, as opposed to the pages of a textbook."
— Rover Arts