Women on Ice: The Early Years of Women's Hockey in Western Canada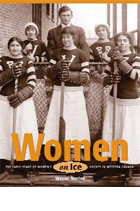 Women on Ice
The Early Years of Women's Hockey in Western Canada
$21.95
Autumn 2009
ISBN 978-1-55380-073-6
7-1/2″ x 10″ Trade Paperback, 166 pages
History, Western Canada


Women on Ice opens up the almost unknown story of women's ice hockey in western Canada during the First World War and the 1920s. The Vancouver Amazons, with their championship laurels and a close association with hockey's famous Patrick brothers, were perhaps the most famous, but they were only one of a number of hockey teams that met during the annual Banff winter carnivals to compete for the women's ice hockey championship of western Canada.
Meticulously researched and studded with captivating photos, the book introduces us to a whole host of teams from British Columbia and Alberta — the Regents, the Hollies, the Rustlers, the Amazons, the curiously named Swastikas, and many more — teams that deserve to be legendary, but are now largely forgotten.
Although the crowds at women's games were sometimes bigger tan the men's, the popularity of women's hockey declined in the 1930s. Subsequently, the history of all women's teams in western Canada was consigned to obscurity. In Women on Ice, Wayne Norton rescues much of the detail and drama of hockey's fascinating history.
"Wayne Norton has done an excellent job in chronicling the history of the women's game in western Canada! Women on Ice identifies and pays tribute to those women in western Canada who had a vision, no different from those who play today, to develop and grow our great Canadian pastime."
— Nancy Wilson, Head Coach, UBC Women's Hockey Team
"Today, women's ice hockey is enjoying a resurgence. In this valuable book, Wayne Norton takes us back to where it all began."
— Chuck Davis, Vancouver Historian
__________________________________________________________________________________________________
Reviews & Awards
Honourable Mention, BC Historical Federation
"Norton offers a fascinating look at the early days of women's hockey in the West, in a readable style that will appeal to the general reader as well as history buffs, sports fans and the growing number of girls and women who play hockey."
— Times Colonist
"Women on Ice: The Early Years of Women's Hockey in Western Canada provides an interesting, well-written, and detailed description of women's hockey in BC and Alberta before 1940. . . . it is a highly readable and entertaining popular history."
— BC Studies
"This historical tome will doubtless become the book most referred to in all subsequent work on women's hockey in Western Canada."
— Suite101
"A fascinating history supported by excellent photographs"
— The Prime Times, Winnipeg
"Norton has mined some little-known depths to come up with an interesting new angle on a sport that's fundamental to the Canadian psyche."
— Kamloops Daily News
"Women on Ice: The Early Years of Women's Hockey in Western Canada provides an interesting, well-written, and detailed descriptions of women's hockey in British Columbia and Alberta before 1940."
— BC Studies Book Reviews