Slavens, Kerry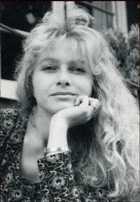 Kerry Slavens
Ronsdale books by Kerry Slavens:
Gravity and Light (with Margaret Blackwood and Anne M. Kelly)


Poet and fiction writer Kerry Slavens was born in the mining town of Natal, B.C., now a ghost town. She presently lives in Victoria, B.C., where she received her B.A. in Creative Writing from the University of Victoria. She is currently writing a novel and collection of poems, as well as working in the environmental movement and as a freelance writer. She has won several journalism awards, and her work has appeared in Canadian literary magazines.