No Ordinary Place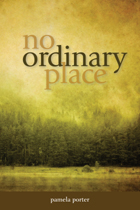 No Ordinary Place
$15.95
February 2012
ISBN 978-1-55380-122-1
ebook ISBN 978-1-55380-152-8
PDF ISBN 978-1-55380-172-6
6″ x 9″ Trade Paperback, 106 pages
Poetry


Pamela Porter's poems celebrate a world awaiting discovery. She opens this new collection with a poem entitled "An Offering" in which she brings to the ceremony "poems / for every season — of dreams born, / burning, broken" and, in particular, one that "begins like a perilous grace" to develop as "naked and tender and wanting." Throughout, one hears and sees images that connect both the poet and reader to other dimensions. Always for Porter, there is the moment tentatively coming into being where the mundane is transformed into something totally unexpected and otherworldly. The image can be one that develops from the natural world as in "Branches, Early Spring," where she sees how "the trees' red sap set the sky on fire." Another poem based in nature is "Naming" in which "small birds life into the sky / holding in their beaks / the words we don't need to say." Throughout, Porter's poems celebrate moments when we experience "the beginning of the world again."
"Porter's poems are direct, clear, narrative in intent, yet embedded with dazzling imagery that brings scenes fully alive." — Canadian Bookseller
Click here to read "Daily Office: eight fragments" from the collection
Daily Office
eight fragments
for Cecilia
1
Ripe berry, you,
naked and damp
with birth,
we brought you home.
I held you in the crook
of my arm, your new
mouth yawning,
your mewling cry. Snow
and the frozen
stars. From what far
world did you come,
and did you bring
this loneliness?
2
Tonight the jasmine
blooms for love
of the moon.
Trees, what tears
you let fall, what bells
you toll.
3
We sleep, we dream,
and memory unfolds,
scrapes at the house. The folded,
the unfolded, the life
and the death. Owl,
give away your darkness,
become the moon
and sing.
4
These slow nights of winter,
my little soul opens
and closes her wings.
She is grieving heaven,
her dream, mourning what
has died, what
is not yet born.
5
The light said, "Rise."
The morning said, "Choose."
And so I rose and walked
to the sea,
the vast crowds of stones
already gathered.
And the sea, seeing them,
spoke. And the stones
murmured among themselves.
I understood little
but clouds changing
the sky, sea
changing the shore.
6
I fell from heaven
7
Morning grows into noon
and a woman
reads aloud. She knows
the book by heart, loves
the delicate curve
of the words,
little wrens, restive birds.
It's my voice, that bell I'm hearing.
I stand apart, heaven-fallen,
stranger to earth.
8
Sun's procession —a choir
of one. Moon's manna of frost
on grass —oh, what silence!
This daily office.
This awakening to light.
Click here to close the book excerpt.
Ronsdale Books by Pamela Porter:
---
Reviews & Awards
Shortlisted for the 2013 Raymond Souster Award by the League of Canadian Poets.
"In Pamela Porter's . . . No Ordinary Place, enclosures, gardens, paths, homes, barns, orchards, and pastures—places generally thought of as ordinary or, at times, empty or abandoned—are enriched. . . . Our perception of place is heightened through Porter's language, so that the overlooked is made visible. . . . It is the care in these poems toward the living that I will most remember, be it toward humming-bird or human." — Heather Jessup, The Malahat Review
"The strength of this collection lies in Porter's ability to take the familiar, even ordinary, and show how special it is. And by doing so, she shows that the world is anything but ordinary." — Candace Fertile, The Victoria Times Colonist
"Pamela Porter's fourth book of poetry has focus and form that results from her maturity as an artist; the poet's confident voice and finely crafted stanzas command the reader's attention as much as her subject matter." — Quill & Quire
"Porter constantly surprises, sharing with us a world in which conventional lines are blurred and the most ordinary thing can, in a breath, or with a word, be transformed into something extraordinary. Past, present and future seem only marginally separated in this world…. Porter weaves a stunning web of imagery that holds the reader captive from beginning to end." — Story Circle Book Reviews
"Pamela Porter finally discovers that special place in No Ordinary Place." — Geist Magazine, Summer 2012
"These poems are rich in experience, they are the tale of life lived looking at the world in wonder, they are textured and they are polished. . . . Pamela Porter has mastered the most difficult aspect of poetry – she makes it look easy, the best poets do." — Michael Dennis