Utopic Impulses: Contemporary Ceramics Practice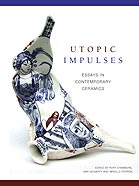 Utopic Impulses
Contemporary Ceramics Practice

$26.95
Autumn 2007
ISBN 978-1-55380-051-4 (1-55380-051-6)
ebook ISBN 978-1-55380-095-8
7-1/2″ x 10″ Trade Paperback, 306 pages
Craft


Utopic Impulses: Contemporary Ceramics Practice brings together ten essays and twenty artist projects to explore ceramics as a socially responsible practice. By framing particular ceramics practices as "utopic impulses," this anthology envisions new and stimulating conceptions of how studio ceramics contribute to the social and political fabric of their time.
The ten essays by artists and theorists well-known in the field, including Paul Mathieu (2007 Saidye Bronfman Award winner) and Leopold Foulem, "make a case" for the importance and value of studio ceramics in the public sphere. The artist projects in Utopic Impulses reflect influences and contexts arising from both local and global concerns. Drawing from a full spectrum of examples, the projects include functional wares, design for industry, conceptual, community-based projects and large-scale installations by artists such as Greg Payce, Jeannie Mah, Sin-Ying Ho, Thérèse Chabot, Jamelie Hassan, Anne Ramsden, Diane Sullivan and Les Manning.
Each artist project consists of generous visual documentation supported by an artist statement. While the majority of contributors are Canadian, several are from Australia, Ireland and the UK. Bringing together innovative and forward-thinking examples of theory, history and studio practice, this volume will appeal to students, practitioners and educators in the fields of contemporary visual arts, ceramics and craft culture in general.
"Utopic Impulses presents examples of challenging work that involves social idealism, activism and critical theory. It is a work that has long been waited for, is definitely needed and will be much appreciated by a wide-ranging audience. It will challenge and inspire the current and next generation of artists, curators and critics."
— Virginia Eichhorn, Curator, Canadian Clay & Glass Gallery, Waterloo
"Utopic Impulses is truly inspiring for 'learning to inhabit the world in a better way.' It draws together a fascinating and comprehensive collection of critical research and practices that are grounded in contemporary ceramics while soaring upward, towards the most uplifting creative and social possibilities of the human spirit."
— Joanne Marion, Curator of Art, Esplanade Arts & Heritage Centre, Medicine Hat, Alberta
"This collection of essays and artist projects illuminates idea about ceramics as a socially responsible art practice. It has been thoughtfully orchestrated by three astute editors. Sources are essentially Canadian; the questions and issues raised are worth pondering by anyone interested in contemporary ceramic art and practices."
— Sally Michener, Ceramic Artist, Retired Faculty, Emily Carr Institute of Art & Design
__________________________________________________________________________________________________
Reviews
"Utopic Impulses: Contemporary Ceramics Practice comprises a substantive addition to the growing body of theoretical writing on what has been for too long a marginalized and ignored field. We need more of this."
— Fusion Magazine
"[a] beautifully diverse and thought-provoking collection"
— Craft Journal